Detailing preserves your car's beauty and resale value
Having your car detailed regularly is an affordable way to keep your car beautiful, and its resale value high. The professionals at White Glove Car Wash & Detail Center will give your vehicle an thorough polishing and waxing to help extend the life of the paint job. 
Your satisfaction is always guaranteed when you come to White Glove Car Wash & Detail Center.
Get expert rock chip repairs. Call:
"My car looks amazing! Thank you guys so much! My car hasn't looked this great since I bought it!"
– Shante Sanchez
"The Works" - a beautiful, clean car at a great value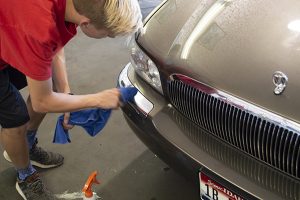 "The Works" Basic Detailing includes a hand wash & towel dried exterior, cleaned wheels & dressed tires, wipe out door jambs thoroughly dust interior vinyl & leather, clean all interior and exterior glass, thoroughly vacuum interior.
Automotive shampoo services keep your fabrics and carpet looking and feeling great!
We clean your carpet and upholstery by hand and with powerful extractors, pulling dirt, grime, and stains. We can handle specific spots that you need cleaned, or give the whole interior a thorough shampooing!
Protect your fabrics and make them easy to clean with Scotchgard treatment
Scotchgard fabric treatment helps repel spills, stains, and liquids. Great to apply after a thorough shampooing!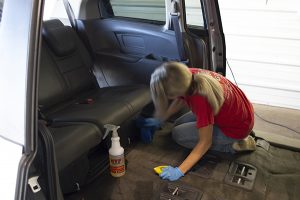 Interior deluxe detailing service includes:
Degrease and steam clean door jambs
Shampoo carpets
Shampoo seats (if upholstered)
2-step leather clean & condition (if leather)
Clean and dress all interior vinyl using compressed air along with a variety of cleaning tools (thoroughly cleans all nooks and crannies!)
Hand wash and towel dry exterior

Exterior deluxe detailing services offered:
Hand wax service (see below)
Buff & polish
Our hand wax service includes:
Wash & towel dry exterior
Remove any road tar and/or tree sap
(excess amounts may be an extra charge)
Dress all exterior rubber & plastic surfaces
Hand polish all chrome surfaces
Clean wheels
Apply and remove wax from all painted surfaces
Remove the yellowing and haze from your headlights, restoring brightness to your headlights and make your car look new again!
Steam clean your engine bay & get things looking great. Includes a hand wash & towel dry of the car.
If you need full detailing underhood, please contact us for a quote.
Whatever you drive, we'll clean it
• Cars
• Trucks
• SUVs
• Tractor trailers
• RVs
• Boats
• Airplanes and more